Joy.Link Referral Program

Invite friends to Joy.Link
Whenever a friend you referred register for the first time, you will earn $5 USD.


How does the referral program work?
When you invite friends to Joy.Link, you can earn $5 USD when they get started using it. Here's how it works:
You can earn $5 USD for each friend you successfully refer. See explanations below for details on what a successful referral is.
The maximum amount of payout for a month is $40 USD (8 referrals). Even if you have 9 referrals in a month, you will only get $40 USD.
Your friends will also benefit from referral. Every friend you refer - regardless of whether they help you earn a $5 USD incentive - will be given free professional features.
How do I invite friends?
First of all, you need to already be an active user of Joy.Link. Once you've finished the design of your bio link, share it using any of the following methods:
Login in to your Joy.Link profile, click 'create referral link'. Your referral link with title will appear below. Rearrange the order or revise the message base on your need.
But do not revise on the referral link, it has tracking code that help us identify your referral.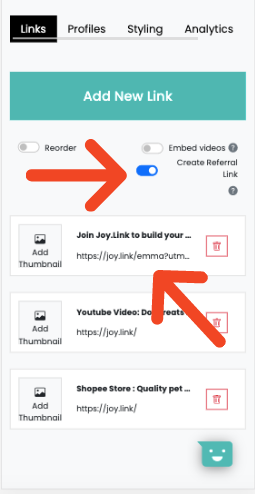 2. When someone clicks the link button and registers from your page, we will record it for you in our database.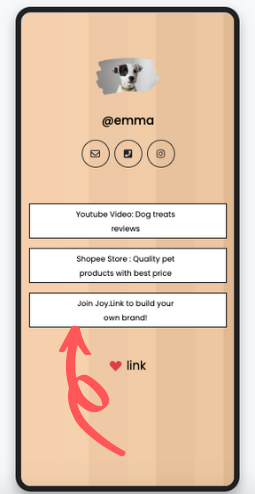 What is the definition of Active User?
Must have at least one active links, social media icon, and selected theme.
Your bio links that have traffic from your audience.
Sensitive or suspicious accounts will be excluded as active users.

How can I find the referral URL?
Active users can activate their referral link with the toggle under the Link tab  (see screenshot below).
What is considered a successful referral?
For your referrals to deem successful, the friends you invited must complete both steps:
Register for the first time and design their own bio profile. Each referral must be a new user who has not registered an Joy.Link account before.
After registration, their bio link must create at least one link or social profile, and select a theme. Non-active accounts does not qualify as a successful referral.
Note:
If we detect two bio links created from the same device or IP, you will only earn $5 USD once for the first person that creates an account on that computer.
Also, the new account with sensitive or suspicious content will not be counted as a successful referral.
How do we transfer incentive to you?
We will notify you via email when you accumulate a total of $40 USD. For the payment method, we will send via PayPal, Amazon gift cards. We will reach out to you when you meet the target.
Campaign & Commercial Terms
These "Commercial Terms" apply to our commercial transactions with you, including your use of our service, or the acquisition or redemption of any referral incentive. You should carefully read through these Commercial Terms to understand your rights and responsibilities, as these Commercial Terms constitute a contract between you and Joy.Link
If you do not agree to the Commercial Terms, then you can decide not to complete a Commercial Transaction.
You agree to receive electronically all communications, agreements, and notices that we provide in connection with Joy.Link. ("Communications"), including by e-mail, text, or by posting them on the Joy.Link website or through any Joy.Link service or product. You agree that all Communications that we provide to you electronically satisfy any legal requirement that such communications be in writing.
We may update these Commercial Terms from time to time. Please be sure to review these Commercial Terms before you finalize any Commercial Transaction.
1) The payout of the Campaign, number of successful referrals, and entitlement to the amount will be announced by Joy.Link. Joy.Link reserves the sole and absolute right to make final and conclusive decisions.
2) Participation in the Campaign is voluntary, and Joy.Link shall not be responsible for any disputes or liabilities arising from or caused by the Campaign. Joy.Link shall not be responsible for any related obligations or costs incurred by participating in the Campaign.
3) Participation in the Campaign represents the participant's understanding of, acceptance, and willingness to comply with the terms and conditions for the Campaign. In case of any breach of these terms and conditions, or any dishonest conduct and/or acts of counterfeit, Joy.Link reserves the sole right to immediately cancel the participant's entitlement without prior notice.
4) A computer system arranged by Joy.Link will be used to calculate the transactions. Joy.Link's records and the results of its calculations shall be final and conclusive. Joy.Link shall not be responsible for any matters arising from or in connection with the submission, delay, loss, or transmission error of any information of the participant due to technical problems, including but not limited to any computer or internet network problems. All relevant dates and times of the Campaign (including but not limited to the date and time of participation) will be based on the information as recorded in Joy.Link's computer systems. Joy.Link reserves the sole and absolute right to make final and conclusive decisions.
5) Joy.Link reserves the sole right to vary or cancel the Campaign and/or amend or alter these Terms and Conditions at any time without prior notice. In the event of any dispute, the decision of Joy.Link shall be final and conclusive.
6) If a participant is found to have adopted any way to invade and/or modify the computer program to participate in this campaign, Joy.Link reserves the sole right to cancel the participant's entitlement. The participant will bear all related responsibilities, liabilities, and consequences.
7) Participant will be notified by email about the payout collection arrangement within 90 working days when they reach $40 USD. A notification email will be sent to each winner's email address as registered with Joy.Link.
8) The prize will be forfeited if the winner has never registered an email address before or during the Promotional Period or if that email address is not valid at the time the payout is given.
9) No person other than the Eligible Participant or Joy.Link will have any right under the Contracts (Rights of Third Parties) Ordinance (Cap. 623 of the Laws of Hong Kong) to enforce or enjoy the benefit of any of the provisions of these Terms and Conditions.
10) Employees of Joy.Link related to the promotion and their relatives are ineligible to participate in the Campaign. Joy.Link reserves the sole and absolute right to interpret and determine the definition of "related to the promotion" and "relatives".
11) Should there be any discrepancy between the English and other languages versions of these Terms and Conditions, the English version shall apply and prevail.